You work from home or plan to do so?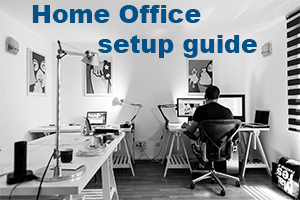 You need access to your company files from anywhere?
You want data security and improve your workflow?
IT Business Services can help you to setup your work environment, get the hardware needed and advice on best practice.
Your ideal workplace
Space
Try to set aside a defined workspace where you have all your kit (PC, screen, printer etc.) it should be a physically and psychologically distinct space for your work.
Internet
With the current ultra-fast internet connections available you can utilize cloud applications, video conferencing tools and remote access. Change your internet plan to the fasted speed available for your area. You should also consider to have unlimited data usage if you work with bigger files.
Computer
Get a dedicated computer for your work. A PC or Laptop from the current generation will give you a stable system. Do not save on memory or screen size. Important is a good onsite warranty with a next day replacement service.
Software
Find out what programs you need to effectively accomplish your work. There are different option available for your office software – think ahead how your business might change in the future.
Security
Consider a backup strategy for you data. Use onsite and offsite backups. Incorporate a backup battery to prevent power failures. Use passwords and protect USB flashdrives.
Office bundles
Below some Bundles put together as examples. Please contact me for your requirements.  Bundles can be adjusted to your existing setup.
| | Starter | OFFICE BASIC | OFFICE WEB | OFFICE BUSINESS |
| --- | --- | --- | --- | --- |
| NAS File storage access anywhere | X | X | X | X |
| UPS | X | X | X | X |
| Local Backup | X | X | X | X |
| Cloud Backup | | | X | X |
| Office 365 subscription | | X | X | |
| Office 365 Business subscription | | | | X |
| Network switch | | X | X | X |
| Domain (yourbusiness.co.nz) | | | X | X |
| E-Mail (This email address is being protected from spambots. You need JavaScript enabled to view it.) | | | X | X |